Hey! Thanks for stopping by!
Aussie Sock Shop is a proudly Australian owned and operated small family business. We started this store as a way to provide our customers with easy access to quality global brands and products, supplied from right here in Australia. When you buy from Aussie Sock Shop, you are supporting Australian families who have been working in the industry for over 30 years.
Also don't be fooled, even though our name suggests we just sell socks, we sell much much more!  Our store range is growing everyday, and now comprises socks, underwear, leggings/tights, thermal underwear, beanies, gloves, blankets, apparel and natural rubber thongs/flip flops.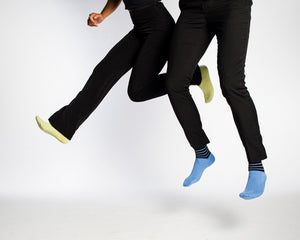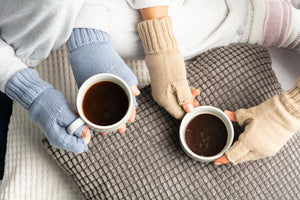 We pride ourselves on offering products that really make a difference; to the wearer, to the gift giver, to community charities and to the environment with our TORE® sock range, the world first 100% TOtally REcycled socks.
Our range of products start from everyday to specific thermal, sport, work, business, outdoor, health and wellbeing socks. We offer single, multipack, bulk packs and numerous unique gift packs. When we say we have a sock for everyone, for every activity, we really do mean it. From bright colours to neutrals and patterns to plain we have socks for every person and every occasion. Our brands are backed by years of research, innovation and global success, ensuring we provide the highest quality products to you. 
Our Aussie Sock Shop team works hard to provide the best service to our customers. Orders received before 1pm, are typically picked, packed and dispatched on the same day you order! For orders that have incomplete information of stock queries may take another day, (Maximum 2 business days). We are always  here to help, so if you have any questions check out our FAQ page here or find out how to contact us here. 
Hope to see you again soon!
With love, 
the Aussie Sock Shop team

Sustainable Goals 
Like many businesses and companies all around the world we are taking steps to improve our impact on the environment. Even though we are a small business we understand that our choices can have an impact. We have switched the majority of our packaging to paper and cardboard. We reuse delivery boxes for bigger orders to reduce waste. By donating our end of line stock we can help communities in need and diverting materials that were destined for landfill. While these steps are great we have much more to do and are working everyday to learn and be more sustainable in all areas of our business. 
We have recently launched TORE® socks, the world's first 100% TOtally REcycled sock!! Check it out here
Our increased use of BAMBOO in the design and manufacture of our sock and underwear products positively impacts and is kinder to the environment, as bamboo plants are fast growing, require no pesticides and absorb more than 35% more Carbon Dioxide than trees.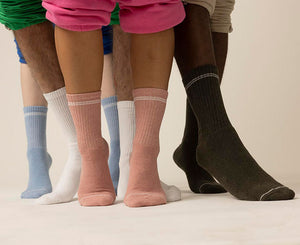 Giving Back to the community
Charities - We proudly support the RuLE Prostate Cancer organisation, Rotary, Heart Kids, Country Women's Association, Ready Set, Salvation Army.